The Zherorisk® project identifies the diversity of Litokol products: an investment in the safety of tile installers and people.
Zherorisk® is a research initiative by Litokol's R&D division with the participation of the University of Modena and Reggio Emilia, the DICAM (Department of Civil, Chemical, Environmental, and Materials Engineering) of Bologna and external research institutes.
The Zherorisk® platform is a technology projected into the future with the aim of developing an innovative generation of eco-sustainable building materials, at "zero risk". The goal is to guarantee the safety of people through three aspects: safeguarding the health of professional operators; the quality of air in homes, places of work and free time; the transportation of goods.
The study of primary materials and ways to combine them leads to the creation of a new family of innovative products, all with eco-sustainable characteristics.
All the characteristics of Zherorisk® products are certified by third-party research bodies.
Even Spaziocontinuo® products are made with Zherorisk® technology.
Studies show that most VOC emission (Volatile Organic Compounds) occurs during application: the use of products with ultra-low VOC emission increases the safety of professional users; the lack of pungent and unpleasant odours makes the workplace
much more comfortable.
Non corrosive
Non toxic
Non-hazardous to the environment

Very low VOC emissions: safeguarding the quality of air in homes and the health of those who live there.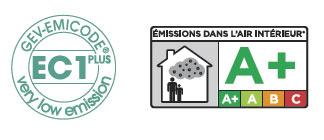 Zero risk in transportation
Product not subject to restrictions for road, sea, air and rail transport
No ADR restrictions for road transport
No IMO containers for transport by sea

DEEPENING
Goods transportation and environmental protection
Zherorisk® products, in addition to being eco-compatible, safe for the environment and human health, with ultra-low VOC emissions, can be safely transported because they are free from substances that are harmful to the environment and not subject to the regulations included in the ADR regulation governing the transportation of hazardous goods.
The path taken on toxicological studies and the reform of all chemical substances included in the Reach/CLP European standards that introduces the United Nations globally harmonized system GHS, has allowed the classification and labelling criteria to be harmonised, thus encouraging the free movement of goods whilst ensuring a high level of protection for man and the environment.
With the new basic substances developed as a result of the Zherorisk® project, it was possible to obtain products with minimum risk labelling, with no obligations imposed by the ADR regulation, allowing for significant cost savings in terms of shipping and logistical time frames.
When it comes to international transportation over long distances, our products can also be transported by sea in containers without IMO shipping certification (International Maritime Organization).
Zero risk for the environment
Renewable primary materials
Recycled materials
Lower energy consumption
Lower CO² emissions
Reduced consumption of basic materials