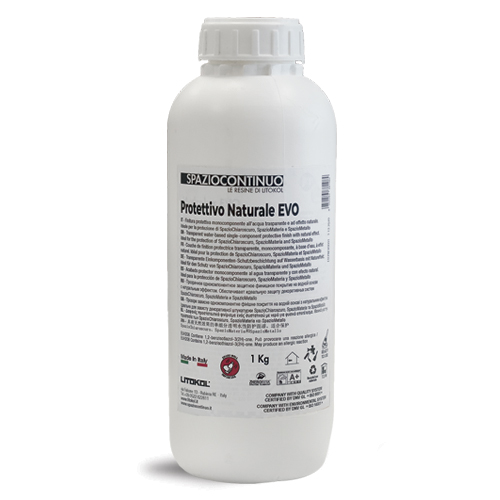 Protettivo Naturale EVO
Single component water-based protective finish with natural effect.
Protettivo Naturale EVO is the protective finish that provides resistance to wear, yellowing, and stains. Excellent resistance to scratches, highlights the effects of the underlying textures. While satin, gloss or matt finishes can enrich surfaces with new effects and therefore broaden the possibilities to personalise the space, for purists of "natural" matter, Spaziocontinuo proposes this clear solution specifically designed for the SpazioChiaroscuro, SpazioMateria, and SpazioMetallo decorative wall systems. Its total transparency allows surfaces to be protected without influencing their appearance in any way. This makes it possible to appreciate all the naturalness of the mélange of SpazioChiaroscuro colours, or else the different effects of various lighting on SpazioMetallo pearlescent surfaces, and even SpazioMateria delicately rippled surfaces.
In wet areas or if the client desires a matt, gloss, or satin effect, this is possible by applying a Hydrolux EVO polyurethane clear protective finish.