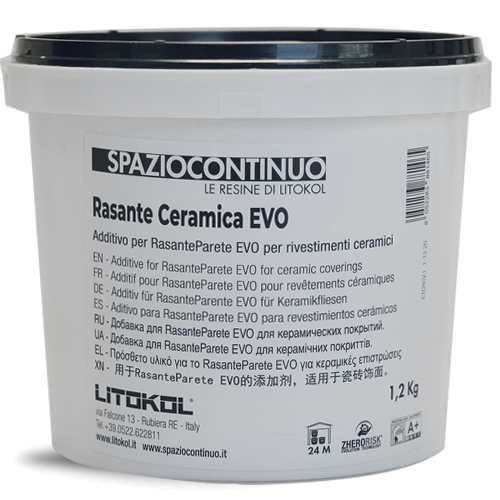 Rasante Ceramica EVO
Water-based skim coat for overlaying on existing coverings. obtained by additivating rasante parete evo with the rasante ceramic texturiser. for interiors. product with very low volatile organic compound emission rate.
Skim coat designed specifically for overlaying of Interior Wall Spaziocontinuo® decorative systems on existing coverings in ceramic, porcelain stoneware, mosaic, and natural stone.
Obtained by additivating Rasante Parete EVO with a texturising additive, called: "Rasante Ceramica EVO".
This additive gives the skim coat the perfect granulometry to "cancel" out the joint lines of the existing joints.
Product with very low volatile organic compound (VOC) emission rate, compliant with class A+ (Émission dans l'air intérieur – French Regulations)
Water-based product
Easy to sand
Product with excellent fluidity and easy to spread
Product exempt from restrictions for road, sea, air and rail transport
Excellent adhesion on absorbent and non-absorbent substrates
"Pure" white colour
Specific for overlaying on existing coverings in ceramic, porcelain stoneware, mosaic, and natural stone
Also suitable for application on rough cement plasters which are too fine to apply Rasante Parete EVO
Granulometry specifically studied to "cancel" out the joint lines of existing coverings and slight surface defects of rough plaster
Elastic and fast-drying with compensated shrinkage